Welcome to the 826LA Writers' Room at Roosevelt High School in Boyle Heights. We're so happy you're here!
826LA has opened a second Writers' Room on the campus of Roosevelt High School in Boyle Heights! An 826LA Writers' Room is a classroom-sized version of 826LA's writing centers in Echo Park and Mar Vista. During the 2015-2016 school year, 826LA launched the first Writers' Room at Manual Arts High School in South LA.
Roosevelt High School's partnership with 826LA dates back to 2007, when Ben Gertner—then a teacher and now Roosevelt's principal—invited 826LA to work with his students. Last year, he invited the organization to establish an official, long-term presence on campus. 826LA works closely with teachers and administration to tailor projects to curriculum priorities. 826LA staff and volunteers have guided students through the creation of a series of Ethnic Studies books. 
"826LA has always provided that most valuable resource of all—caring, invested, and well-prepared adults who represent the diversity of Los Angeles," said Roosevelt High School's Instructional Coach Brendan Schallert. "The Writers' Room means that teachers have this invaluable resource just down the hall (or across campus) and can plan for opportunities for their students that they couldn't make happen alone. For students, it's one more way they can feel taken care of and secure in their journey toward post-secondary life."
Like its predecessor at Manual Arts in South Los Angeles, the Writers' Room at Roosevelt High School will specialize in helping students craft personal statements for college admission. In communities like Boyle Heights, where the median household income is less than $34,000 and only 5% of residents have a four-year college degree, many students are the first in their families to attend college. Since 826LA began programming at Manual Arts, the school's graduation rate has risen from 73% to 91%. In 2018, 94% of the school's college-bound seniors worked on their essays in the Writers' Room.
826LA Writers' Rooms are safe, welcoming spaces where students also work on creative projects, edit and publish their own books, and receive personalized encouragement from caring adults. 826LA sees writing as a crucial tool for assisting teachers and empowering students. In the words of 826LA Writers' Room student Lonnell: "The more confident I get when I write, it's easier for me to be myself when I talk about the things that affect me that the injustices that I see."
We've opened a uniquely 826LA space where students can work on their personal statements for college admission, collaborate on creative projects, and become published authors with one-on-one support from caring, experienced volunteers. The Writers' Room, led by Program Coordinator Angelica Butiu-Coronado, will also work with teachers on campus on specific writing projects built into their curriculum, including the continued work around Ethnic Studies.
Ethnic Studies as Roosevelt
Roxana Dueñas, Eduardo López, and Jorge López are three groundbreaking teachers who created the Ethnic Studies course "Boyle Heights and Me" for ninth grade students at Roosevelt High School. Using the themes of resistance, resilience, and re-imagination, students analyze the root causes of oppression while taking a closer look at their own identities and their Boyle Heights community. "I didn't learn about this stuff until college," is a common refrain from 826LA volunteers who help ninth graders at Roosevelt High School write this book of personal essays in response to the school's Ethnic Studies curriculum each year. The youth writing and tutoring organization has worked with Roosevelt since 2007. As topics including racism, immigration, and gentrification become increasingly prominent in national media, Roosevelt students are creating powerful reminders that no one is better equipped than them to tell their stories. The resulting books are shared with incoming classes and in education programs at universities nationwide, including Harvard. 
Check out past publications here.
And get a sense of Roosevelt overall in their 2018 hype video! The Ethnic Studies program is featured, along with many other amazing facets of this school.
---
What happens in an 826LA Writers' Room? Here's a snapshot of our Writers' Room at Manual Arts High School:
How this fits into the Strategic Plan
Priority One of our 2018-2021 Strategic Plan is to serve as many students in the Los Angeles area as possible to increase the impact of our organization. Because our Writing Labs have reached full capacity,  826LA is going to sustainably expand its Writers' Rooms model from one to three rooms by 2021! The addition of new Writers' Rooms allows 826LA to expand to new neighborhoods, currently not reached by 826LA, and build a new community of students.
---
Thanks to our partners and collaborators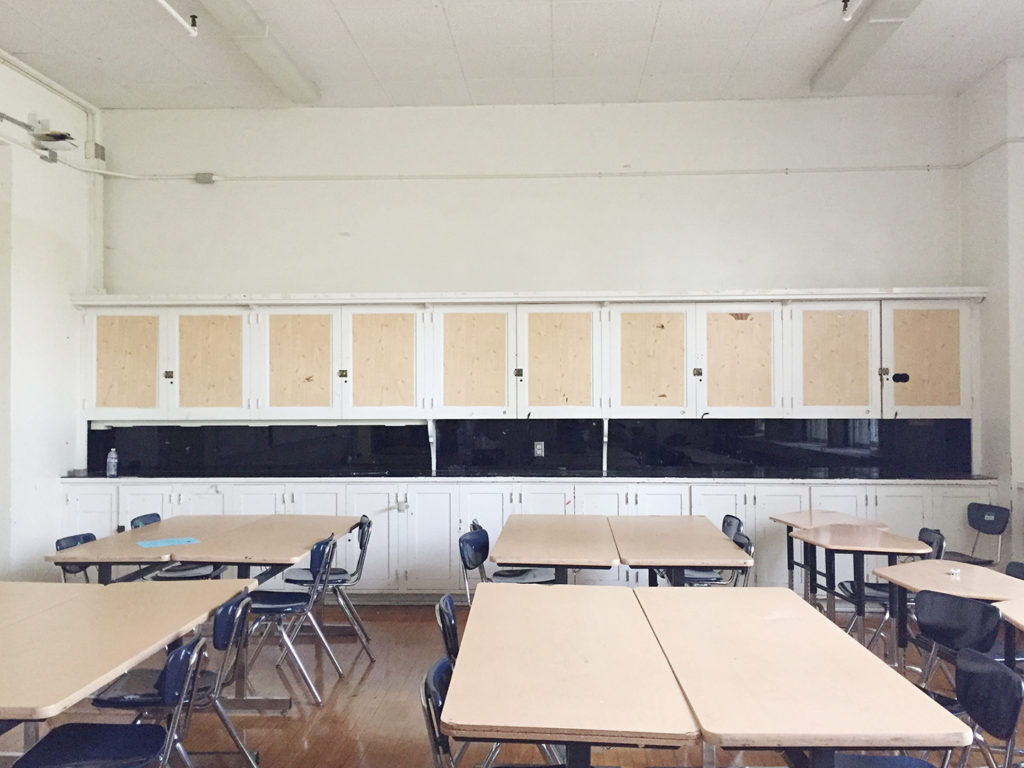 (Before)
(After)
Thanks to Roosevelt High School and our friends at Nickelodeon Animation!
Programs in the 826LA Writers' Room at Roosevelt High School are supported by the generosity of:
The Goldhirsh Foundation
The Vera R. Campbell Foundation
Leticia Acosta
Felipe Almeida
Inell & Henry Chase
Terena & Anders Eisner
Jodie Evans
Alexandra Glickman & Gayle Whittemore
Winston Howes
Tali Klapach
Suzanne Lerner
Carolyn & Louis Lucido
Molly McNearney & Jimmy Kimmel
Eileen & Kevin Shields
Lekha Singh
---
Interested in supporting the Writers' Room? Donate here, or sign up for a Volunteering 101 HERE to get started. 
---