826LA welcomed 5 new faces to the team during the 2018-19 school year. They've been a part of our family for some time…because we are time travelers, we have gone back in time to welcome them again!
Russel—Program Coordinator, Workshops in Mar Vista
Cathy—Program Coordinator, Field Trips in Echo Park
Cynthia— Program Coordinator, Tutoring in Echo Park
Maricruz— Public Allies, Volunteer Coordinator
Andrea— AmeriCorps VISTA, Marketing and Communications Coordinator
Meet them below and say hello the next time you're at 826LA!
---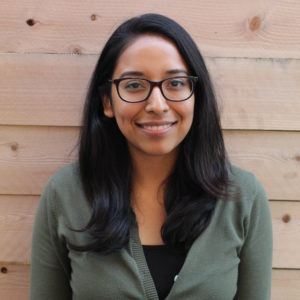 Before Russel became 826LA's Workshops Coordinator in Mar Vista she worked as a Summer Associate for the Write On! Summer Camp in 2018. She holds a B.A in Art History from the University of California, Riverside. She firmly believes in promoting social equity, creative thinking, and community-building among students of all ages through the arts. During her free time, you can usually find Russel studying German and Arabic, learning her mom's recipes, exploring new art exhibitions, jamming with the bass guitar every once in a blue moon, and sleeping in until noon!
---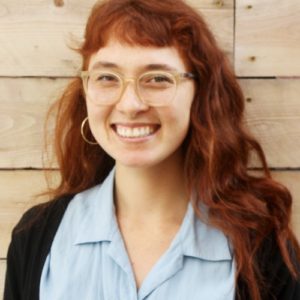 Cathy is rejoining the 826LA family as a Program Coordinator for Field Trips in Echo Park after working as a Programs Intern and Summer Associate in 2016. She believes that even though there are so many different programs at 826LA, everyone who passes through our spaces shares a uniquely 826LA experience, and is connected in that way. Cathy is excited to return to the Writing Lab where students are always supported, inspired, and listened to. She looks forward to that magic moment when a student gets to hold a newly bound book with their words inside. Cathy first found confidence in her own voice through creative writing, which she studied at Kenyon College alongside visual arts. In her free time, you can find Cathy drawing as she describes, "kinda grim, often autobiographical, hopefully funny," cartoons. She also enjoys hiking and cooking with friends!
---
Cynthia oversees the After-School Tutoring, family advisory boards and youth advisory boards in Echo Park. She moved to Los Angeles from Santa Ana, CA to attend California State University, Los Angeles. During her time at CSULA, she interned for 826LA's Field Trips Program and then worked as a Summer Associate for the Write On! Summer Camp in 2014. Cynthia enjoys the opportunity to provide a space where students feel confident in being themselves at 826LA—as silly, creative, and mischievous as they may be! After receiving her Bachelor's degree in Urban Learning she taught college prep courses for 6th-8th grade students at a charter school in Gardena, CA. She has also worked with women at a domestic violence women's shelter and as a one-on-one aid for students with disabilities. Her passion for social justice pushes her to incorporate diversity, equity and inclusion in her programs. You can catch Cynthia doing yoga and watching her chinchilla parkour in her free time. She is a big foodie and will try anything with Tapatio on it.
---
Andrea was born and raised in Anaheim, CA, but recently graduated from MidAmerica Nazarene University (MNU) in Kansas. At MNU, Andrea participated in colligate Track and Field and played a big role in her university's Student Diversity Council promoting diversity and inclusion throughout the Kansas City area. While earning her B.A in Marketing and Communications, Andrea worked and volunteered with several non-profit organizations and campus clubs developing a passion for community building and serving others. She is excited to mix her two passions of marketing and non-profit work as the Communications and Marketing Coordinator (AmericCorps VISTA) for 826LA. In her free time, Andrea enjoys thrift shopping for room decor and new outfits, casually referencing Nacho Libre quotes in everyday conversations, and taking photos with her dog, Moni. Andrea's favorite thing about 826LA is the sense of community the organization brings to volunteers, staff, students, and their families alike.
---
Maricruz is excited to begin a new journey with 826LA as she joins the Volunteer Team as a Public Allies member. She was born and raised in the Westlake/Pico Union area near Downtown Los Angeles. In 2017, she earned her degree in Ethnic Studies and an Education minor from the University of California, Berkeley. Her experience as a volunteer in various organizations in the Bay Area led her to become interested in working with students and within the field of education. After completing a research project on migration in Mexico and moving back to LA, she began to look for opportunities to give back to her community, which lead her to an internship at 826LA. She loves seeing the mentorship that is created between the students and the volunteers. When not at 826LA, Maricruz is brushing up on her baking skills by watching cooking shows, specifically The Great British Bake Off.
---
Each staff member covers different responsibilities essential to the success of 826LA, and we are excited have their knowledge and expertise in our offices and labs. Welcome to the 826LA community!
---
If you want to work closely with the 826LA community, consider becoming an 826LA Intern or Volunteer!
Apply for an 826LA Internship HERE.  Sign up for a Volunteering 101 HERE.