"826LA helped me find and share my voice when others told me I was wrong."
Stanford University freshman Idalia Perez O. reflects on her journey from the 826LA Writers' Room at Manual Arts High School to college. The 826LA Writers' Room at Manual Arts is 826LA's third programming space, on the Manual Arts High School campus. Modeled after 826LA's writing centers, the Writers' Room has provided support for more than half the school's students since opening in 2015. 826LA staff and volunteers help students with college applications and enable teachers to take on ambitious, long-term writing projects.
Finding a voice at the Writers' Room at Manual Arts
826LA helped me find and share my voice when others told me I was wrong. They helped me improve my [college] personal statement to really be able to convey my story, without trying to change it. Their staff was always there when I needed help, and they found time for me whether or not they were on campus.
"When I first walked into the Writers' Room at Manual Arts, I felt as if my work wasn't good enough. I was nervous to uncover my writing for others to go over, because I felt as if there was a specific style of writing that was regarded as "good" and did not believe mine was it.
"I began to see the beauty in my own words"
I am now grateful, because I remember sitting down with [Writers' Room Coordinator] T as I told my story, and they made me feel as though my work was powerful. I then realized we each have our own way of carrying out our ideas. After visiting the Writer's Room on multiple occasions, I began to see the beauty in my own words, because they belonged to me and they told a story that only I fully knew about. The Writer's Room, but more importantly the staff, helped me uncover my style as well as increase my confidence with writing and I am no longer intimidated of it.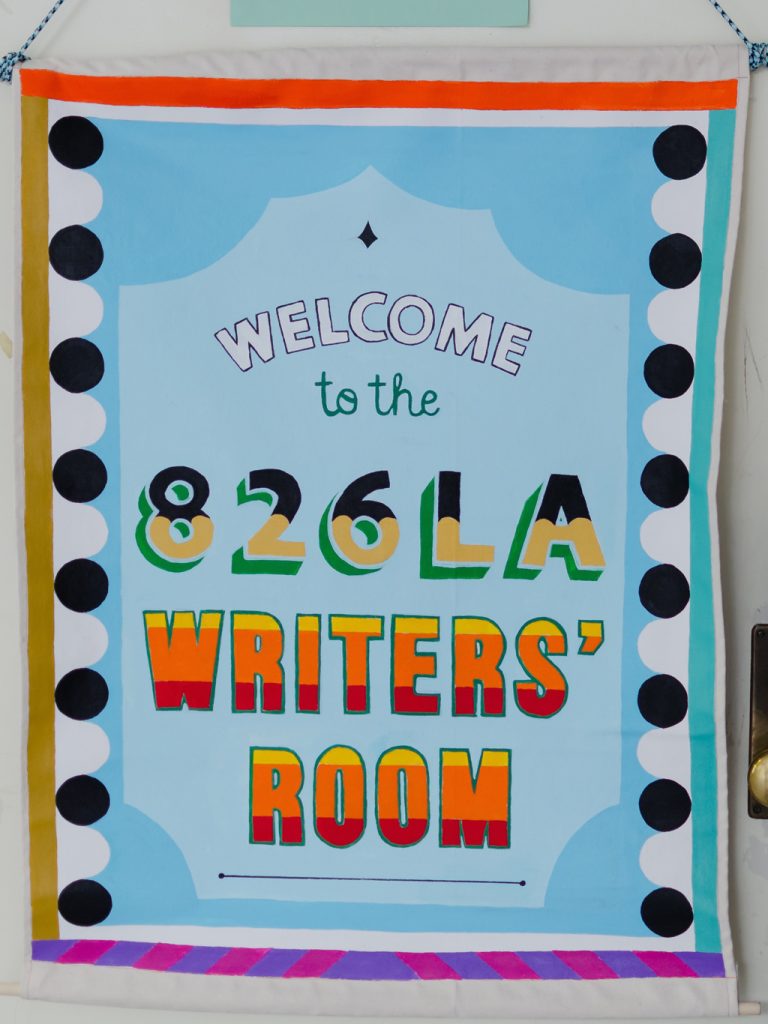 What I really appreciate about the work done by the staff at the Writer's Room at Manual Arts is the way they present themselves. I enjoyed the way the staff got to know me and listened to my story before criticizing my writing; they found out what I was trying to convey, and we went from there.
When working on my personal statement, I remember being told that a few of the ideas I included in my work were unimportant although I believed they were, but this changed when I walked into the Writer's Room. There, they made me understand that what I had to say was important and I shouldn't let others tell me otherwise.
A note to 826LA Writers' Room Coordinator T Sarmina
T, I just want to say thank you for all your support. Thank you for helping me shape my story into something beautiful, something I was and am proud to read. I appreciate you taking the time to work with me in creating my own personal statement which holds so much importance, especially now that colleges spend so little time reviewing applications. Thank you for helping me stand out and get into the school of my dreams.
* * * * *
Come celebrate 826LA students like Idalia and support our Writers' Room
at our annual event Tell Me a Story: Untold Stories of Los Angeles!
June 6, 2018
6:30 pm Reception | 7:30 pm Dinner
Vibiana in Downtown Los Angeles
With Special Guests
JIMMY KIMMEL
ROBIN COSTE LEWIS
XOSHA ROQUEMORE
DANNY TREJO
and more!
Music by Artist & 826LA Volunteer
BENJAMIN BOOKER
Through writing, children learn to express their thoughts and dreams. Share your love of storytelling with students across Los Angeles when you join us for this unforgettable event on June 6, 2018 in Downtown LA. Untold Stories of Los Angeles will celebrate our students and the remarkable stories they have uncovered about their lives with the help of 826LA's free writing programs.
At our centers and in schools across LA, students discover their voices and gain skills that help them excel in school and beyond. Since opening its doors in 2005, 826LA has inspired more than 74,000 Los Angeles students between the ages of 6 and 18 to write. By raising crucial funds, Tell Me a Story will help keep 826LA's programming free and accessible to the students who need them most.
---
Learn more about our Writers' Room and In-Schools College Access programs here. 
Interested in becoming a Writers Room or College Access volunteer? Sign up for a Volunteer Orientation here!