"After today, I feel more secure about my essays and applying for scholarships. Working with my tutor really helped me a lot, and it was really fun! We connected. He had a lot of ideas, and we agreed on different things, putting our ideas together throughout the whole essay. I feel more confident now!"    —Miguel, Manual Arts student
On March 10, 826LA in partnership with the LA Promise Fund hosted the biggest Scholarship Day to date! At this year's 6th Annual Scholarship Day, 69 dedicated volunteers and 70 determined LAUSD students spent their Saturday off working together to reshape college personal statements into scholarship essays at Manual Arts High School.
While our Great Los Angeles Personal Statement Weekend supports students during the daunting college application process to get into college, Scholarship Day follows up with helping students find ways to pay for their dream schools and succeed in higher education.
At the start of the day, each student and volunteer pair was given a folder with key information, including school transcripts, SAT scores, resumes, all personal statements students wrote for college admission, and two scholarships chosen for them based on matching identifying factors. Some identifying factors include: Dreamer, Feminist, Woman in STEM, Black/African American. Over the course of four hours, volunteers worked one-on-one with students, using content from the college personal statements the students' already worked so hard on in the fall as the  jumping off point to craft new essays to fit specific scholarship essay prompts.
---
Student and Volunteer Pair Testimonials:
"I feel amazing now! I got everything done that I needed to. And it felt really good to have someone there supporting me to make it happen. I was most nervous about running out of time or not being able to answer the prompts as fully as possible. My tutor understood where I came from and she understood my situation, and she helped me analyze and add more details. I feel amazing about college now. I'm so ready to go!"
—Citlalli, Manual Arts student
"This is my first Scholarship Day, and it was really fun! She's really great! She opened up and was really willing to share with me parts of her story. I think also she took away things that she can use in writing later. So I think she got a lot out of today, and I got a lot out of today too. Just hearing her story and how much she wants to go to school was really amazing!"
—Audrey Yap, first-time Scholarship Day volunteer
"Today was amazing! My tutor was so much help, and it was so fun to be here! I was nervous that my tutor wasn't actually going to be able to help me find a scholarship or help me talk about what I could write. But she did! And it was so amazing how many ideas she had, and the new writing process that she taught me of how to break down everything. I feel confident! I feel like I can go home and fill out other scholarship essays thanks to my tutor!"
—Jennifer, Manual Arts student
"Today was so awesome! We talked and we got to know each other a little bit at first, and I think that was really helpful. It's just about being supportive. She had all the ideas in her head, it was just helping her putting it onto paper. It was a really fun experience!"
—Brenda Hua, CAA volunteer
Check out  more photos from Scholarship Day on our Flickr album here!
---
Volunteer Testimonials:
"These are the most amazing students I have ever met in my life. They are astounding! They always impress me with their talent and intelligence, strength and humor. At the end of the day, we're best friends!
It's just like braiding, how there are all these strands of their life and their work and their studies. They don't actually—sometimes—see them as connected as they really are, and that they can come together and be a statement about them. So then the braiding happens."
—Josie Evans, longtime 826LA volunteer
"I think the biggest benefit of Scholarship Day is having the students feel important. A lot of them say they've made a connection with one of the tutors in such a short amount of time. It  really means a lot to them that somebody takes the time and talks to them while they're doing their writing, because a lot of them do not have that at all.
I love to see my students light up. I wish I could give every student that type of one-on-one attention at the college center, but unfortunately with 350 students, it's not possible."
—Jackie, West Adams Preparatory School College Counselor
"I'm a member of the Trojan Entertainment Network, and this is my first time at Scholarship Day. It's exciting to do this, to work with the students. I graduated USC in 1976. I'm sure the students are a lot different now than they were when I was in high school!
A lot of times when you talk to a student you find out that there's so much for them to write about, it's just a matter of putting it on paper."
—Warren Turner, USC Trojan Entertainment Network, Class of '76
And with the University of Southern California right down the street from Manual Arts, current USC students and alumni volunteers were in abundance at this year's Scholarship Day! We were excited to partner with the Trojan Entertainment Network (TEN) for the first time ever as part of their USC Alumni Day of Service, a tradition we hope to continue!
"We're all excited to be here! The thing that's always been important to me with the Day of Service is that it's great that everybody comes together to do something for one day, but with the way that 826LA is set up, our volunteers are now equipped to continue volunteering at 826LA," said TEN Co-Founder Jimmy Kelly. "I've been volunteering in the arts with kids ever since I went to USC. And I really want other alumni to have that chance, because there are a lot of great groups that do great work with kids, and 826LA is one of the best!"
We would like to thank Manual Arts High School, West Adams Preparatory School, Trojan Entertainment Network, CAA, LA Promise Fund, and all of our *superstar* volunteers for making our 6th Scholarship Day such a success!
And an extra special shoutout to former 826LA interns Deena Wahba, Joana Osorio, Kathy Morales, and Nicholas Coleman for returning as Scholarship Day volunteers!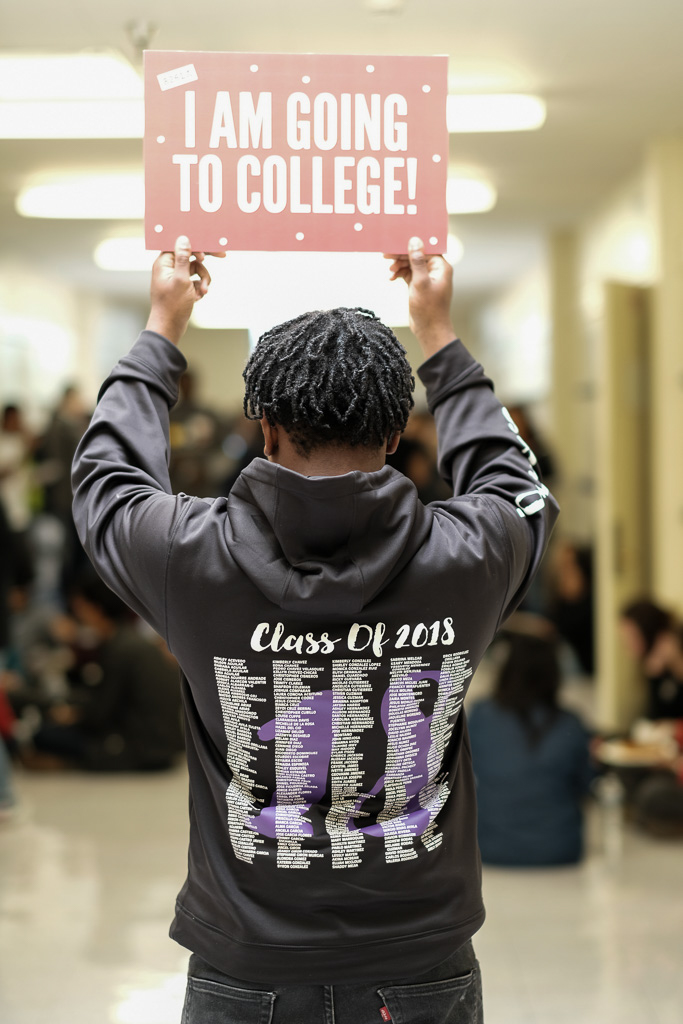 ---
All photos courtesy of Jorge Segura. 
Want to help more students thrive in college? Become a part of the 826LA community and sign up to volunteer!
Sign up for an upcoming Volunteering 101!