Join us in giving a warm welcome to our 2018 Summer Associates! We can't wait to share all of the wonderful work they will do with our WriteOn! Summer Camp and College Access students these next couple of months.
COLLEGE ACCESS SUMMER ASSOCIATE
Sara is a Midwestern transplant who is always happy to share her sunscreen. She holds a B.F.A. from Art Center College of Design, where she studied sculpture. Now, she is revising poems for her first  manuscript: All Heat is of the Same Kind. The Founding Editor of the Los Angeles-based magazine Plots by Clots, Sara loves collaborating on interdisciplinary projects and hosting brunches. This summer, she will work with the In-Schools Team facilitating Personal Statement Writing Workshops. She looks forward to the opportunity to help high school students articulate insights from their distinct experiences.
---
ECHO PARK WRITEON! SUMMER ASSOCIATES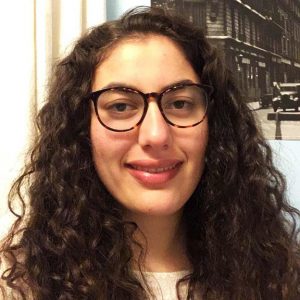 Maya Adberg

Maya is a rising junior at the University of California, Berkeley. She is planning to graduate with a BA in both Sociology and in Economics with a possible minor in Education. When she graduates, Maya intends to work in public service. She was born and raised in Los Angeles, and is excited to return as a summer associate at 826LA. Beyond her academic commitments, Maya enjoys travelling with her family, cooking and baking, and volunteering with Habitat for Humanity.
Alexis Lopez
Alexis is a senior at the University of Southern California. As a double major in Narrative Studies and Sociology, she hopes to build a career where she can combine her passions for storytelling and social justice. She's been a fan of 826LA since her freshman year of college and has previously interned at the Echo Park location as well as in the Writers' Room at Manual Arts High School. To her delight, she's back as a Summer Associate and ready to see students create imaginative stories. Some of Alexis's other passions include visiting LA's unique museums, sipping on refreshing boba drinks, and re-watching her favorite films.
Joaquin Miguel Lopez
Joaquin Miguel Lopez is a native of North East Los Angeles, from the historic neighborhood of El Sereno. From a young age, Joaquin demonstrated a passion for the arts, attending and eventually working at LAMusArt, an East LA-based visual and performing arts program. Raised by educators, Joaquin pursued higher education and received a BA in English Literature from the University of California, Berkeley. There, through his involvement in the Gamma Zeta Alpha Fraternity, he passionately served the Berkeley/Oakland community, developed a scholastic professionalism, and promoted Latino culture on the UCB campus. After returning to Los Angeles, he interned for 826LA. Joaquin has also taught English Literature for Upward Bound, a supplemental education program aimed at providing tutoring services to students from first-generation and low-income families. Now, as a second-year Television, Film, and Theatre MFA student specializing in Dramatic Writing at CSU Los Angeles, Joaquin has received a scholarship from the Hollywood Foreign Press Association, teaches a screenwriting lab in the undergraduate program, and has written a short film funded by The Academy of Motion Picture Sciences. While showing a passion for film and theatre, Joaquin hopes to focus his career on television writing.
Liliana Mayorga
Liliana is a first-generation Mexican-American student at Wellesley College. Currently, she is majoring in Psychology and minoring in Education. Lily has volunteered with 826LA in the past and it was during her time there that she decided to become a grade-school teacher in public schools, preferably LAUSD. She enjoys working with children because there is no greater happiness than helping and watching a child learn and grow. She hopes to make this summer fun, instructive, and memorable for all the children.
---
MAR VISTA WRITEON! SUMMER ASSOCIATES
Russel Altamirano

Russel is thrilled to return home to Southern California and join the 826LA team this summer! Since graduating from UC Riverside in 2016, she has worked as a museum educator at the Smith College Museum of Art. Now on board as a Summer Associate for the Write On! Summer Camp at 826LA, she can't wait to meet all the students and foster their enthusiasm for creative thinking, community-building, and language learning. During her free time, you can usually find Russel studying German and Arabic, learning her mom's recipes, or in a museum!"
Kaylin Jones
Kaylin was an intern at 826LA in Mar Vista during the summer of 2017. She has graduated from Culver City High School and will be attending California State University Long Beach, with a major in Pre-Psychology and a focus on Child Development. Kaylin found that she truly wants to have a career working with children after her summer with 826LA. This program has motivated her to push forth in her future in order to reach this goal. Besides working with children, Kaylin's favorite color is purple, and she enjoys dancing and going to the beach with friends.
Tanyx Madrigal
(pronounced Tah-nee-ks) was born in Reno, NV and raised there and in the SF Bay Area, CA. During their undergraduate career, they worked as an ALANA intern primarily trying to spread resistance, positivity, and community healing through their work, programming, and social media presence. In May 2018, Tanyx graduated from Vassar College with a Bachelor of Arts in Psychology and a minor in Latinx American Literature Studies. They are excited to begin their masters of social work at California State University of Northridge (CSUN) this upcoming fall 2018. But before then, Tanyx is pleased to be working with 826LA as a summer associate where they hope to get to know the LA community and find their place here. During their downtime, Tanyx enjoys deconstructing westernized notions of well-being, decolonizing their mind and body, and has a love hate relationship with over-analyzing most things. They enjoy spending time with their cat Lucero Xochitznel Madrigal, listening to old school and some new school R&B, writing poetry and short stories, celebrating non-neurotypical ways of thought, and conquering TV shows on Netflix.
Victoria Martinez
Victoria was born and raised in Orange County. She graduated this past May from the University of Southern California with a Bachelor of Science in Global Health and will begin her Master of Social Work program in Fall 2018. Victoria has previously worked with USC Jumpstart, implementing a reading-preparedness curriculum in preschool classrooms, and with USC Troy Camp, as the director of high school programming. As director, she lead SAT Prep courses, created bi-weekly workshops, and coordinated college visits and volunteering days. In her free time, she enjoys camping, loosely training for her first triathlon, and spending time with her little sister!
Rafael Antonio Sanchez
Rafael's passion for education and self expression are what led him to become a visitor services associate at the Broad Museum, where Rafael worked hand in hand with the 826LA youth programs through the Art+Story and Art+Rhyme workshops, which combined creative writing and art. Rafael assisted the K-12 Bilingual/Spanish-speaking students, and becoming part of their overall educational experience is something he is very proud of. Rafael has been part of cultural organizations and affairs in both theaters and arts institutions in New York and Los Angeles. Rafael has a huge passion for arts education, but a much bigger heart for community. Performer, writer & teaching artist, Rafael received his B.A. in theatrical arts drama from MCC New Jersey, minoring in education, and his B.F.A. film degree from The New York Film Academy. Rafael is thrilled to be a part of 826LA WriteOn! Summer Camp and believes is important to help students learn how to put their life experiences into words as an act of self empowerment transforming lives… every single day!
---
Thank you for making this summer amazing! 
Interested in getting involved with our upcoming ELL Camp? Find out how to volunteer here.