This semester, The Writers' Room at Manual Arts High School supported Mr. Tanara's Journalism class in a project called, "Finding the Extraordinary in the Ordinary." 
Each month, volunteers helped students navigate all aspects of feature writing — including story pitches, interview questions, media clips, and photos to be featured in Toiler Times, the high school's online newspaper. The following article about 826LA presence on the Manual Arts campus is the finished product by Shanell D., Ernesto G., Yesenia G., and Yozabeth N. 
---
Persian rugs cover the cold linoleum high school floors. Art and student essays are neatly placed on the walls for viewing. An old typewriter sits on the desk near the back wall of the room. Short stories and poetry written by students rest on the printed pages of published books. Stories of love and life fill the pages. Simple yet profound words of wisdom can be found in these student produced stories. Senior Esperanza T. writes about stress and love, "Learn to love and things will be better." "You have to remember to always speak up for yourself and don't let the stress take over," writes senior Kevin S.
This is a writer's sanctuary. This is 826LA.
826LA is a non-profit organization that was implemented at Manual Arts High School in 2013 with the goal to assist all students with their college essays and their creative writing. They have over 4,000 volunteers that take time out of their day to help students. The idea for the program was born in the confines of a classroom.
Educator Nínive Calegari and author Dave Eggers founded 826 Valencia back in 2002 in San Francisco. Their mission was to support students ages 6 to 18 with their creative and expository writing skills, and to help teachers inspire their students to write. 826 became a big help to teachers and students in Northern California. As they started to grow as an organization they decided to expand into Los Angeles,
Chicago
, New York, Detroit, Washington D.C., and Boston. Teachers and students from all across the country have reaped the benefits of 826.
Joel Arquillos started out as a public school teacher in San Francisco. As a teacher he really didn't get much support. He was expected to help 200 or so students he taught each year make big strides in their reading and writing.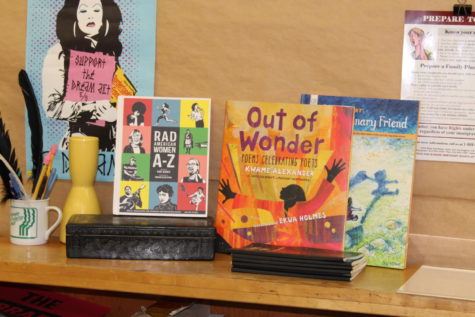 He was inspired to do creative writing in college when he had to write short stories in workshops with other students. He got involved with 826LA to help bring creative writing to his classes and he was eventually offered the job of Executive Director of 826 Valencia in San Francisco. He later transferred to Los Angeles to work at the Echo Park location. Although Joel faced many obstacles to get this far he has really enjoyed watching the organization grow. When he first started  826LA in 2008 they only had 5 staff members. They now have 28. At the time they were helping about 1,700 students. Now they help over 9,000 students each year. Serving as the executive director is by no means an easy job, and it can be very lonely and stressful at times.  "I'm not going to lie, it's a hard job and it can also be a very lonely job if you're not careful," said Joel. Insufficient funding and not finding the right people to hire are some of the challenges he faces, but he believes in the work and knows how much of an impact 826 has on the community.
Much of 826 LA's success depends on the willingness of the volunteers to work with the school. T Sarmina, writers room coordinator at Manual Arts High School, recruits volunteers from all over Los Angeles. Retired LAUSD teachers, former Manual Arts students, and community members sign up to be a part of this organization. Volunteers are found through fundraising events, at local colleges, and at 826 LA's stores located in Echo park and Mar vista.
Volunteers like Debra Shrout have made a big impact on Manual Arts High School. She has had many experiences working with a variety of different schools. In May of 2016 she decided to make a dramatic change and moved from St.Louis to Los Angeles. One afternoon she was skimming through a daily newspaper and noticed that 826 had a volunteer opening at Manual Arts High School. She decided to take the chance of helping students and teachers. Ever since she took that opportunity she has seen tremendous growth in the students and in their writing. Every time she works with a student she feels connected to them through the power of writing. "I feel connected with students when I am working with them,"said Debra. Volunteers support students with constructing personal statements, they help craft narratives, poetry, and sometimes these interactions develop into strong connections.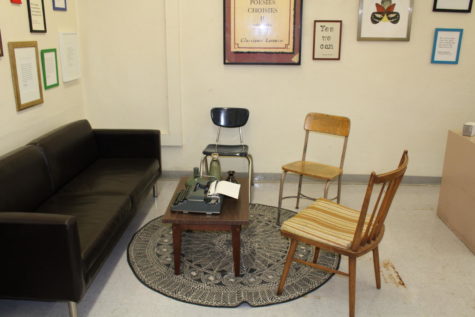 Senior Tyrese Dansby has been putting in work with volunteer Frank Kearns to get a head start on his personal statement and also publish a short story about zombies. Tyrese and Frank worked together for only a few months last year, but developed a strong connection. "Working with Frank was amazing," said Tyrese. "He allowed me to be creative and express myself within my writing."
Christina Simon, a woman with a contagious smile, has been volunteering with 826 for several years. She met senior Yesenia Garcia during a book project this past semester. Although they only worked together for a short time, Christina managed to recognize Yesenia's raw talent for creative writing and instilled a confidence in her that motivates her to write every day.
"She boosted my confidence by motivating me to want to write more poetry," said Yesenia.
Senior Ernesto Gallardo published a page in one of 826LA's chapbooks called "Crickets At Night". He talks about his family and mentions how he appreciates the little things he has. "My lesson for the world is appreciation," said Gallardo. His experience with the writing process and with 826LA was "Outstanding," according to him. He learned how to connect with the audience through his creative writing.
Students like Yesenia and Ernesto are among the 65,000 students that 826LA has worked with over the last decade. The organization has helped the students achieve their goals by helping them with their personal statements, complete assignments for class and tap into their creative side. Additionally, 826LA also gives out chapbooks to all students that publish a short story or poetry in the book. Volunteers cherish the relationships they've made with the students they've worked with and hope students continue to grow in their writing. 826LA plans to continue with their mission and hopes to increase the number of students each year.
---
Interested in becoming a part of 826LA's Writers' Room at Manual Arts High School? Read more about our In-Schools program here or sign up to volunteer.