School may be out, but the writing never ends at 826LA. Each year, 826LA invites middle and high school students to take part in our Summer Writers Workshop, an immersive five-day workshop to explore different forms of writing and build their confidence as writers. Led by renowned Los Angeles poets, writers, artists, and 826LA staff, this year's Summer Writers Workshop focused on themes of futurism, reimagination, and identity.
Our 2018 guest workshop leaders  Doug Brown, Theresa Sotto, Tara Burns, Erin Christovale, Ashaki Jackson, Muriel Leung, Michael Reyes, Theresa Sotto, and Stacey Vigallon challenged students to expand their writing through myth and folklore, art and introspection, and less traditional forms of poetry.
Towards the end of the week, students from our Echo Park and Mar Vista writing labs took a joint field trip to the Hammer Museum, where Associate Director of Academic Programs Theresa Sotto and Tour and Outreach Assistant Tara Burns led a writing workshop based on the museum's biennial exhibit, Made in L.A. 2018.
During the workshop, students were asked to engage with and reflect on works by artists: Aaron Fowler, Lauren Halsey, EJ Hill, Jade Gordon, and Megan Whitmarsh, five of the 32 artists showcased in the Made in L.A. 2018 exhibit who "exemplify the diverse and creative landscape of Los Angeles today."
One exhibit in particular took students by surprise, becoming even more interactive than they or the artist had expected. In artist EJ Hill's endurance performance piece, the artist stands stoically atop a podium in the back of a dimly-lit room wearing all black. He was surrounded by a partial track and images of him running laps around every school he has attended in Los Angeles, from kindergarten up through UCLA. Hill's work is a retrospective on what the institution of schooling gives and takes from us. His performance is about enduring all that is thrown at us, stretching the limits of his body as he stands on the podium for eight hours a day, every day, for the duration of the Made in L.A. 2018 exhibit.
After students observed Hill and explored his work in the gallery room, they responded to the prompt: "For this stream of consciousness activity, consider the schools you attended. Reflect on your experiences. For example, what lessons did you learn? What lessons did you not learn? What lessons do you wish you could un-learn?"
Sitting on the green astroturf "field," students shared out what they wrote and reflected on their personal experiences. They spoke about the way schools can classify students, especially students of color, and how that affects their identities growing up. They shared their thoughts about charter schools, about the lack of arts education in LAUSD. About how to find outlets in a system that doesn't always allow for them, and the myth of schools as safe spaces in light of all the recent school shootings.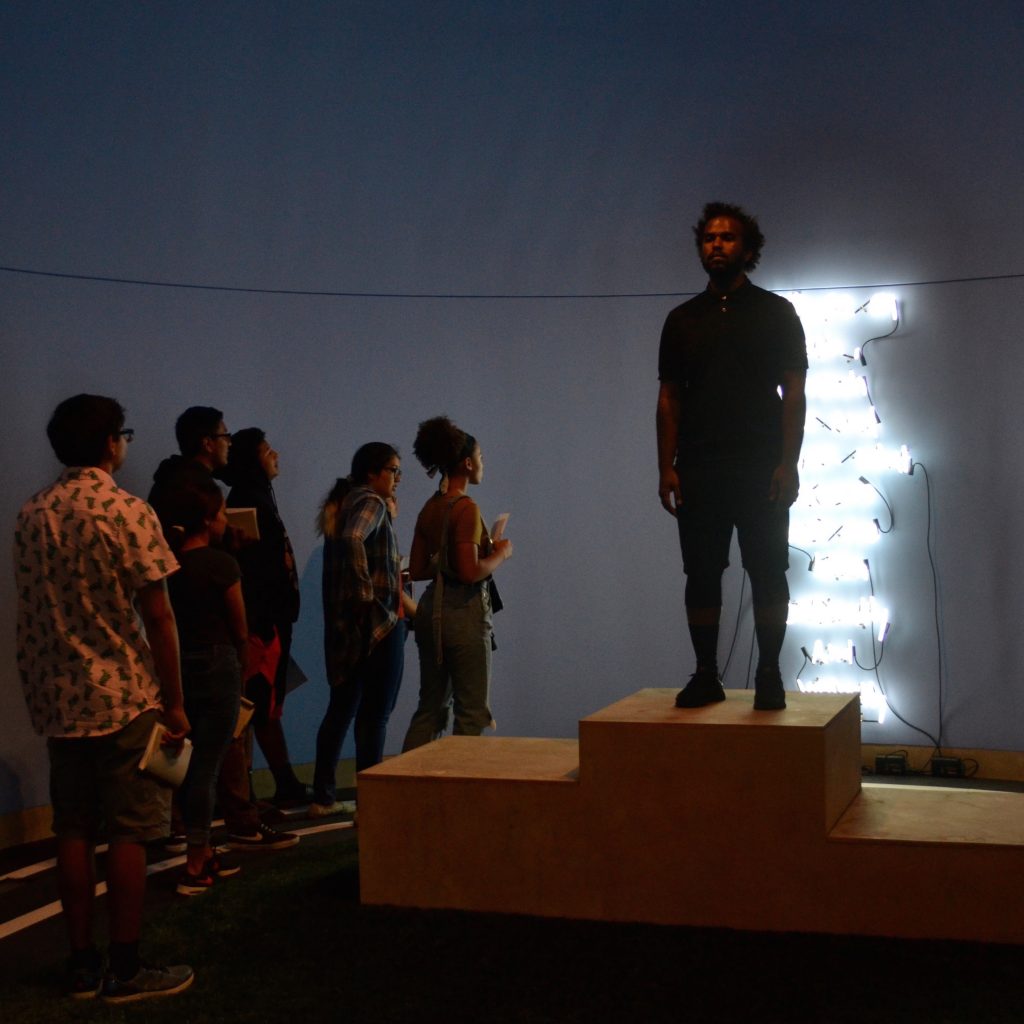 As students wrapped up and headed out of the gallery, Made in LA curator Erin Christovale asked if anyone else had anything to share. From the back of the room, Hill broke his meditative silence for the first time during Made in L.A. 2018 and spoke directly to the students. "I'd like to share something." Still standing on the podium with tears streaming down his face, Hill told students that seeing them sitting on the ground responding to his work, hearing what they were saying, was a full circle moment for him with his exhibit. "If I have any advice for you at this age, it would be to bloom big, to just keep going, to dream as big as you can."
This powerful moment between the artist and students mimicked a teacher standing before a classroom in some weird way. EJ Hill, a graduate of the L.A. school system, and our students, youth currently navigating their own way through the education system, created a space—if only for a few minutes—to come together and open up a dialogue about their shared experiences growing up in this city.
It's in moments like these that our students are reminded of the power of their writing and their voices. This is what our Summer Writers Workshop is all about.
Read more student writing from our Summer Writers Workshop here.
The 826LA Summer Writers Workshop culminates in a published chapbook and a release party this August where student authors will read and celebrate their work surrounded by their peers, family, and community. Check back in August for our 2018 Summer Writers Workshop release party highlights!
---
View photos of the Summer Writers Workshop and the field trip to the Hammer Museum here.