We are inviting 826LA volunteers to help students write stories for this year's Young Authors' Book Project beginning in February! Join them as they compose The Freedom Mixtape. 
---
The Freedom Mixtape
Essays on Freedom

This year's theme is inspired by the sounds and lyrics that have sharpened visions of freedom throughout generations. Beginning in February 2019, 826LA will partner with two teachers at Manual Arts High School and their classes to write personal
essays guided by the question, "What makes you feel free?" Using their own music selections, this year's authors will write how freedom or the journey to find freedom impacts their lives.

In spirit with the Mississippi Freedom Schools created in 1964, and their approach to invigorate critical and creative thinking by bringing music into curriculum, students will begin writing with their headphones on and their pencils moving to the beats of their freedom song. They will delve into a legacy of artists, from Nina Simone to Kendrick Lamar, to learn from artists that write about freedom in rhyme and across decades.

At the end of the project, students will have compiled a mixtape and a professionally published book comprised of personal essays that resounds with their tenacious pursuits and visions. 

Listen to the mixtape inspiring their pieces here!
---
Location: Manual Arts Senior High School, 4131 Vermont Ave. Los Angeles, CA 90037
Begins: Weekly sessions, Starting February 4 through March 8
Requirements: All volunteers must attend a Volunteering 101, complete a Live Scan background check, and have a cleared TB Test, as required by all LAUSD school sites.
---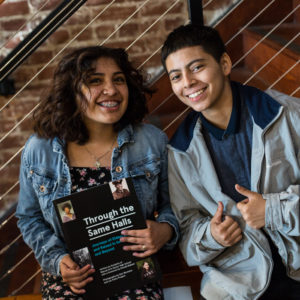 About Young Authors' Book Project
Each year, 826LA partners with one Los Angeles public school to create a beautifully composed, impeccably designed collection of student writing. Over the course of a semester, students research, write, and edit pieces for inclusion in a book with the support of trained volunteers. Students then form a self-selected editorial board, making creative decisions about the final publication. The 2018 Young Authors' Book Project resulted in Through the Same Halls. 
Purchase Through the Same Halls here, or pick up a copy at the Time Travel Mart today!
Click here to see publications from 2005-2017!
---
Interested in becoming an In-Schools volunteer? Sign up for a Volunteer Orientation here!  If you have any questions regarding the requirements, please email the Volunteer Team. For questions regarding the project, please email Programs Manager T Sarmina at TSarmina@826la.org.