"Here at 826LA, we know what it means to be saved by a story

."
Writer and musician K'naan Warsame, who performed Saturday night at Saved By a Story, described his mother's denied visa as "a prison made of ink." If prisons can be made of such delicate materials, though, maybe freedom can be as well.
The writers, musicians, and storytellers who gathered at the home of Kathy and Jason Katims last weekend shared stories around the theme of "Ice" and helped raise more than $23,000 for 826LA. In his opening remarks, 826LA Executive Director said, "Here at 826LA, we know what it means to be saved by a story."

Longtime 826LA Gabriela Romero read her poem "Cigarette Smoke" and told the audience about the first time she worked with a tutor, who helped her write a piece about spring break. She was hooked on writing. Since then, her writing has helped her win awards and travel. "826LA has done a lot for me," she said.
Variations on the "ice" theme ranged from Cindy Chupack's story about the time her husband tried to turn their living room into a winter wonderland with a real snow machine (which was more messy than wonderful), to Luis Rodriguez's "Personal Rant #235" about that ICE and the frosty relations it has created among Americans. Musicians Bhi Bhiman, Donna Missal, and K'Naan Warsame filled the courtyard with their soulful voices and inspired multiple audience singalongs.

ArthouseLA turned the Katims' living room into a gallery space with giant photographs, bold protest paintings, dreamy abstracts, and more, with 60% of sales going to 826LA.

Story lovers who missed the evening can catch it all the brand new Saved By a Story podcast. All of us at 826LA are so grateful to Kathy Katims and everyone who made this most special of events possible!
Interested in supporting? Join us as we push to match $10,000 through the All Ways Up Foundation here!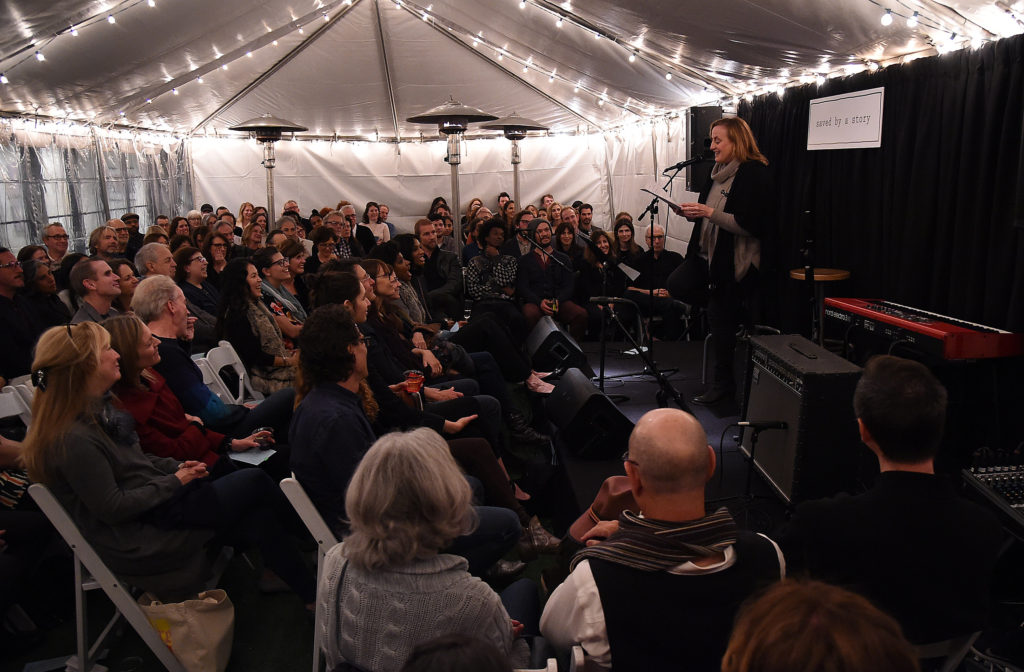 ---
Interested in holding a fundraiser like this, or of any sort, to raise funds for  826LA's free writing programs? Please contact Shawn@826LA.org.