We Are What They Envisioned
By Students of Roosevelt High School
9th Grade Ethnic Studies Class
We Are What They Envisioned explores how students must navigate and carry the histories of their ancestors as they walk towards their own futures. Inspired by Octavia Butler, Tupac Shakur, Kendrick Lamar's song DNA, and the concept of becoming their ancestors' wildest dreams, this collection of writing by 74 student authors reveals reflections on the past of colonization, the present of their current family struggles and success, and the future of their own legacies for the next seven generations.
We Are What They Envisioned is 826LA and Roosevelt High School's third Ethnic Studies book collaboration. This annual Ethnic Studies book series began in 2014 when groundbreaking teachers Roxana Dueñas, Eduardo López, and Jorge López created the ethnic studies course "Boyle Heights and Me" for ninth grade students at Roosevelt High School.
Recently, the push for Ethnic Studies courses focused on the history and culture of racial and ethnic groups has become particularly important. In fact, the California Department of Education is working to create a model curriculum for Ethnic Studies to more accurately represent the diverse histories of California students, and Roosevelt High School's "Boyle Heights and Me" Ethnic Studies course is one of the first of its kind in California.
Previous 826LA and Roosevelt High School Ethnic Studies publications, You Are My Roots and This Is My Revolution, are taught as classroom texts in a graduate course at the Harvard School of Education and in Ethnic Studies classes in high schools throughout the country.
Cover by: Lexx Valdez | Designed by: Rachel Mendelsohn
---
"Just how your voice has been attempted to be silenced, mine is too, but I won't let them. I scream and get louder because I will not be silenced. We've come way too far to give up now…. We have survived through a lot and the end is far from near. We are the definition of resistance, fearless, and beautiful…"
— From "Strength to Women" By Stephanie C., We Are What They Envisioned
---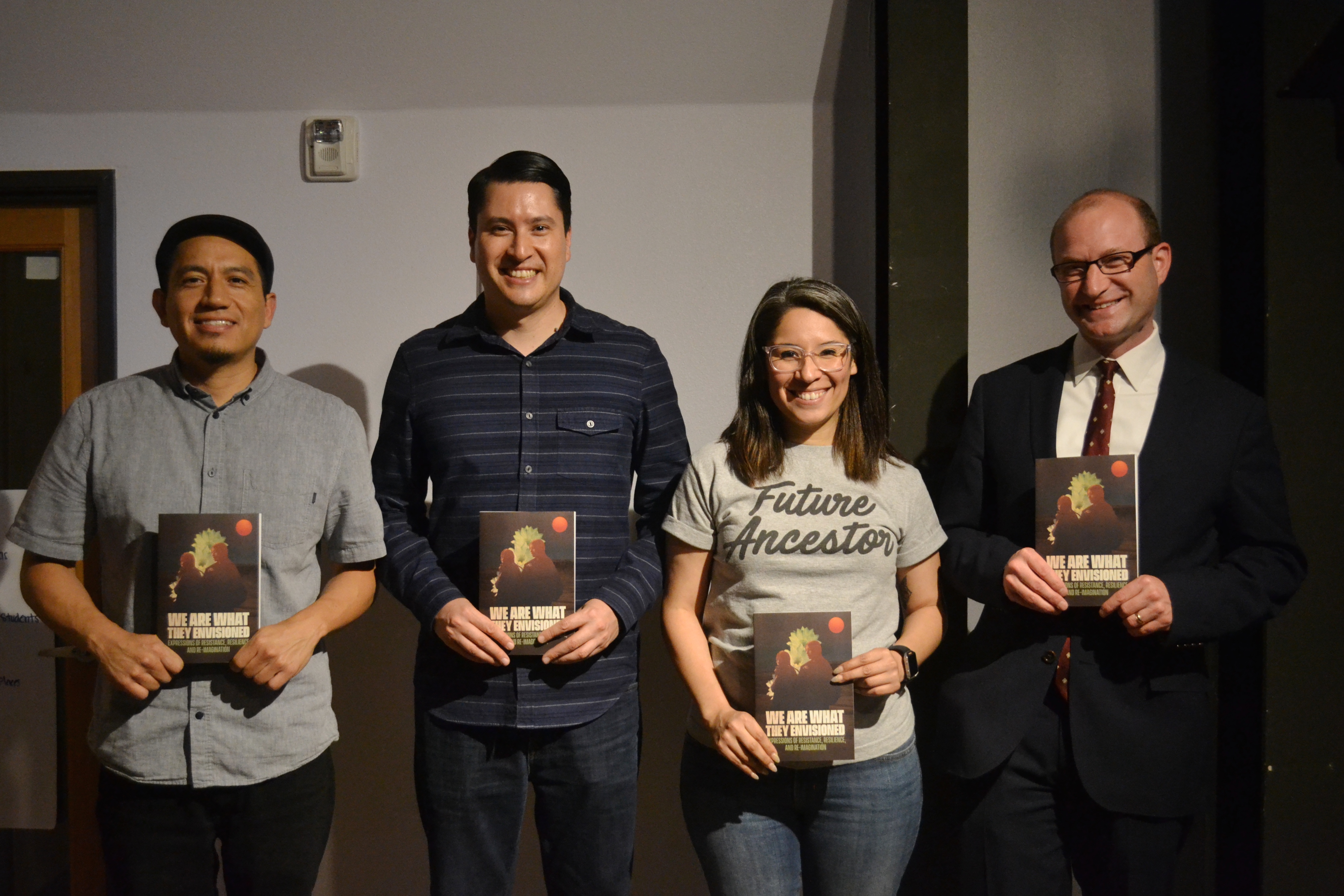 "We grieve and question why we do not know enough about those who came before us; why our histories are not in the textbooks; why we cannot point to maps and trace our families' lineages. We also write…. One day, there will be so many pictures and poems and maps and videos about everything about us, that those who come after us, will not have to guess who their ancestors were. Our stories will be there for them to read–in a language we both understand. "
— From the introductions by Roxana Dueñas, Jorge Lopez, and Eduardo Lopez
---
Featured Student Writing from We Are What They Envisioned
Check out photos from the book release party at the Boyle Heights Arts Conservatory here.
---
To purchase the book, click here, or pick up a copy in store at the Time Travel Mart.